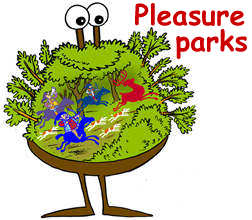 Tally ho!
The word 'park', like the word 'forest', was originally used to refer to an area of enclosed private land, in which the rich - especially the monarch - would keep animals for hunting.
In the eighteenth century its meaning widened and gradually changed to refer to a piece of enclosed land used for any recreational purpose, whether as national, game, or pleasure parks.
The well-off were acustomed to using parks for all kinds of social purposes.
Keep off the park
London, in the eighteenth century, was ringed by many such private pleasure grounds. Their design owed much to romantic ideas of an arcadian idyll and the display of wealth.
There was a charge for entering these parks, to keep the riff-raff out. They had to make do with the gin palaces.