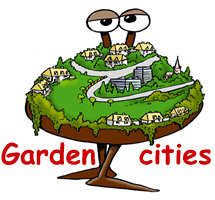 Developments such as Letchworth Garden City and Bournville laid the seeds around 1900 of what was to be a new vision. This vision was about reintroducing the benefits of nature into an urban environment.
Bournville Village Trust
George Cadbury founded the Bournville Village Trust in 1900 "to ameliorate the condition of the working-class and labouring population in and around Birmingham and elsewhere in Great Britain by the provision of improved dwellings, with gardens and open space to be enjoyed therewith".
Ebenezer Howard
Letchworth Garden City, founded shortly after, in 1903, has played an important role in the development of modern urban planning theory and practice throughout the 20th century.
Its architect Ebenezer Howard is recognised as a pioneer of town planning. Both he and Cadbury, like Robert Owen before them, are regarded as benefactors and social reformers. Howard's garden cities were intended to be the first step towards a new social and industrial order based on the common ownership of land.
The principles applied to Letchworth were an experiment to try and overcome the problems of overcrowded, unhealthy cities, depressed rural areas and the poor building standards prevailing in some areas by the end of the Victorian era.
Howard was inspired by F.L.Olmsted's plan for a suburban community where the layout was informal, with spacious plots for houses with landscaped parkway roads.